Sanur's Chef Mudana, owner of Warung Makan SMS, is an amazing chef and expert caterer. After many years working in prestigious hotels and restaurants in both Bali and Japan, Chef Mudana has launched cooking classes from the custom-made classroom on his family property.
Students can choose from lunch or dinner classes, or even sign up for a full day class which starts with a tour of the Jimbaran fish markets to select the freshest produce, before Chef Mudana teaches you how to cook it. He can also tailor classes according to dietary requirements, allergies, vegetarian requirements, or even to cater for an in-villa class and dining experience.
Classes start with a welcome drink while Chef Mudana and his team welcome you to the kitchen classroom, show you where to find everything you need, and introduce you to the ingredients you'll be using. The long kitchen benches are immaculately set up with fresh aprons for everyone, and all the cooking ingredients lined up, labelled and ready to go! In the background, you can hear birds in the trees and the bubbling of the enormous fish pond which you cross by a small bridge through bamboo gates to get into the classroom.
The first part of the class is all about the herbs and spices, which are the foundation of all Balinese cooking. Depending on the herbs and spices you could be making a bumbu base, sambal matah or the stock for a soup like Soto Ayam. Chef Mudana and his team keep everyone laughing while the chopping prep work is done, with stories they have collected in cooking classes all over the world.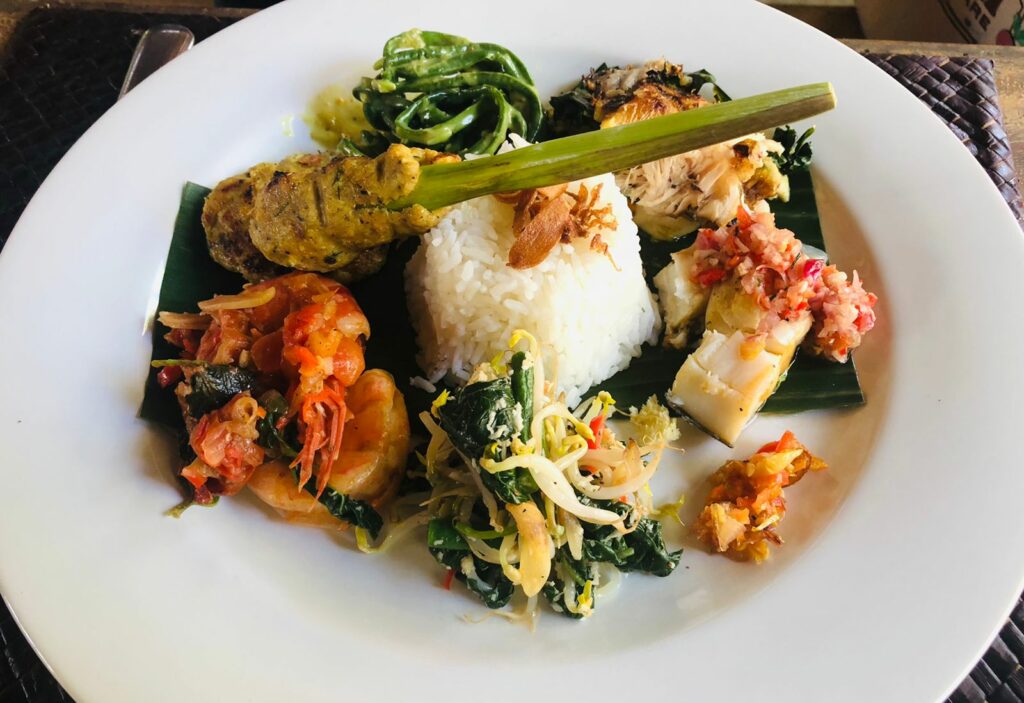 Depending on which class you choose, you can learn to make sayur urab, sate lilit ayam, ayam betutu, ikan sambal and our personal favourite, dadar gulung – the deliciously light pancake filled with sweet syrupy coconut.
While you are cooking each dish under the watchful eye of Chef Mudana, his team plate up each course and present them on the communal dining table. A few icy cold Bintangs and the presentation of your cooking class certificate, and then it's the moment you've been waiting for all class – time to enjoy your hard work and enjoy some delicious Balinese food!Do not leave Sanur without booking a class but make sure you plan in advance as Chef Mudana is in high demand. Check out Chef Mudana Cooking Class Sanur on FB, or @chefmudana on IG or head to https://www.cookingclasssanur.com/