When you have a craving for delicious bread and bakery treats, there is Goddes Bakery, a charming bakehouse in Sanur, selling delicious bread and goodies, fresh from the oven. Sourdough and multigrain bread, cakes, pastries and savories show true baking mastery and are made from high-quality ingredients. Just recently, black rice sourdough bread has been added into its range of healthy breads. It is a diabetic-friendly bread made from black rice that gets digested at a slower rate due to the addition of a natural plant pigment extract – hence improving blood glucose control – and it is high in antioxidants, among other health benefits.
This prize-winning artisanal bakery was started by Chef Merta and his wife, Ibu Ari, eight years ago and has become a familyowned business. This bakery has been a huge family effort, it takes a lot of courage and hard work to start something new. The working day at the bakery begins at 3 a.m. with the dough and baking, so that fresh bread will be ready right on 7 am. His wife, Ibu Ari, works at front of house, making sure each customer is served properly.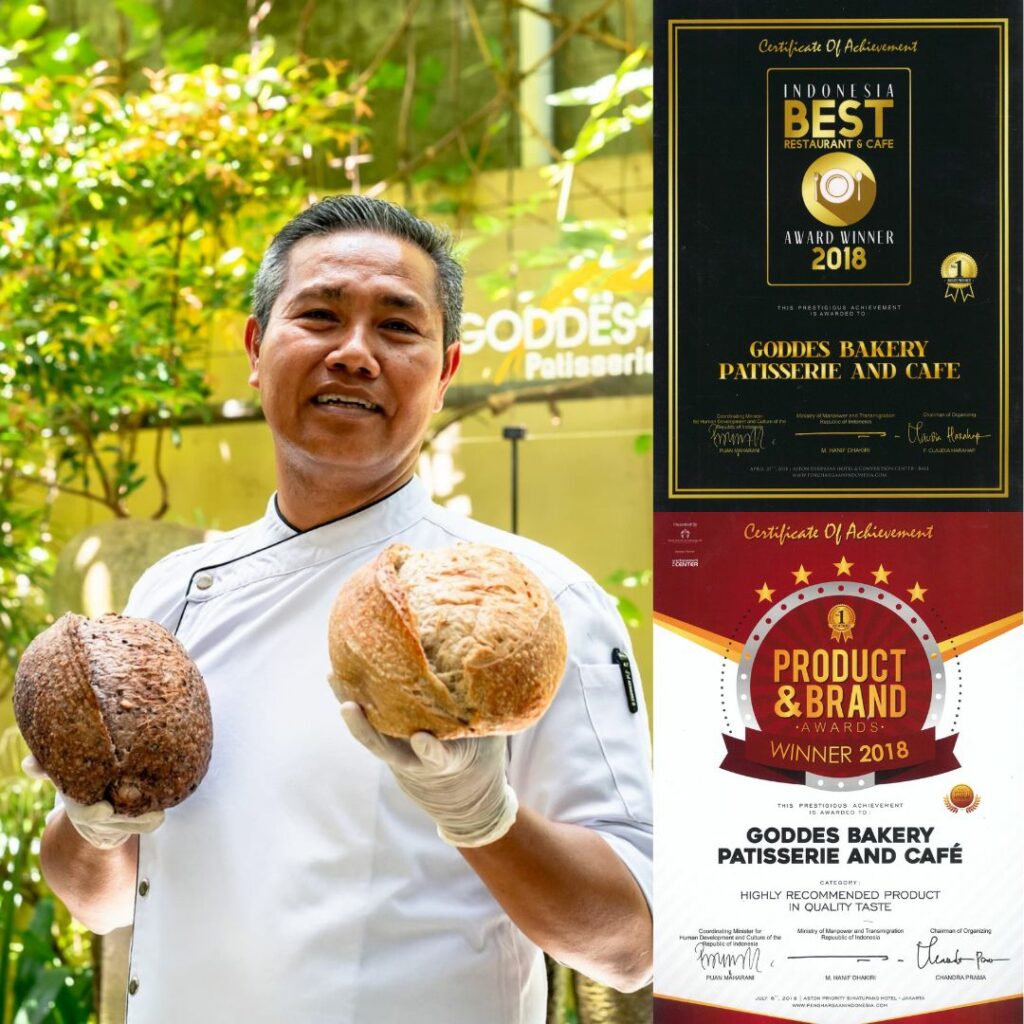 The entire family works at the bakery in different roles. Their eldest son, Edo, has followed the same path as Chef Merta, mastering the art of baking to perfection and creating delicious and beautiful pastries. Their daughter, Tata, is in charge of the baristas and coffee. She is a perfectionist when it comes to barista techniques, and also manages the team to cope with high pressure situations in getting all customer's orders done quickly and correctly – everyone wants a perfect coffee of course!
Rai, Chef Merta's nephew, is in charge in the kitchen. His popular menu items are baked salmon, chicken cordon bleu, stuffed chicken, and several authentic Indonesian dishes. Chef Rai is also very skillful in combining Indonesian and European fusion menus. He clearly admires his uncle, Chef Merta, and has learned a lot from him in terms of discipline, time management, hygiene, and social networking.
This family's hard work has earned recognition as Product and Brand award Winner 2018 (Highly recommended product in quality taste) and Indonesia Best Restaurant & Café Award winner 2018. Both awards are well deserved by this hardworking and close-knit family.
Being asked about the survival of the business during the lengthy pandemic, Chef Merta explained with pride and yet humility, "People come here because everything is fresh and made with lots of care, effort and love. The pandemic was tough, but we survived it because our customers love our food."
Revealing his secret obsession, Chef Merta would like his irresistible Goddes Chocolate and Heaven Chocolate cakes to become a secret family recipe, to be passed down to the younger generation, and become one of Goddes Bakery's most well-known desserts, a true legacy to the family business.
P.S. try the doughnut, its cream filling is truly decadent! Oh, and the chocolate cakes…or the chocolate filled croissants…or just get a box and try a selection of delicacies!